Wednesday, April 22, 2020 / by Nick Arndorfer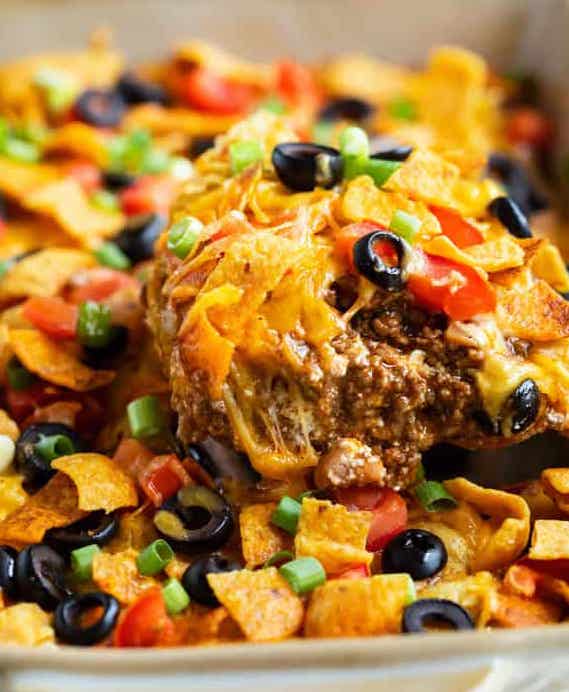 We know a lot of you are facing the challenge of what to make for dinner... AGAIN! Most of us are struggling with that, too. Today we're sharing a delicious dish for the taco lovers in your life. (And you can make this one on days other than Tuesday.)

This Taco Casserole recipe is loaded with all your Mexican favorites and can be topped with Doritos, Fritos, or tortilla chips, or you can combine them all! It's easy to assemble days ahead of time and bake later for a simple, tasty dinner.
Taco Casserole
Ingredients
1 lb. ground beef
1 small yellow onion, diced
3/4 cup water
1 oz. taco seasoning (or 2 tablespoons)
16 oz. refried beans
3/4 cup sour cream
2 cups cheddar cheese, shredded
1/4 cup black olives, sliced
1/3 cup tomatoes, diced
3/4 cup crunchy toppings, such as Doritos, Fritos, or tortilla chips (or use them all!)

Garnish:
1/3 cup lettuce, shredded
Green onions, optional
More sour cream & cheese, if desired
Directions
Preheat oven to 350 degrees.

Add the ground beef and diced onions to a large pan. Cook and crumble over medium heat until the meat is cooked through. Drain excess grease. Add 3/4 cup water and taco seasoning. Bring to a boil. Reduce heat and simmer for 5 minutes, stirring occasionally. Remove from heat.


Spread the refried beans in an even layer within a casserole dish (ideally 9x13). Spread the sour cream over the refried beans. Top with cooked ground beef mixture, then with cheese.

* If preparing this ahead of time, let it cool, then cover and refrigerate until ready to bake.

Baking:
If baking right away: Bake, uncovered, for 15 minutes or until the cheese is hot and melted.
If baking after the casserole has been refrigerated: Bake, covered, for 25 minutes. Remove cover and bake for an additional 5 minutes.

Add the toppings:
Top the casserole with black olives, tomatoes, and crunchy toppings. Bake uncovered for 8 minutes. Garnish with lettuce, green onions, and additional cheese and sour cream, if desired.


TACO 'BOUT A GREAT DINNER!
---